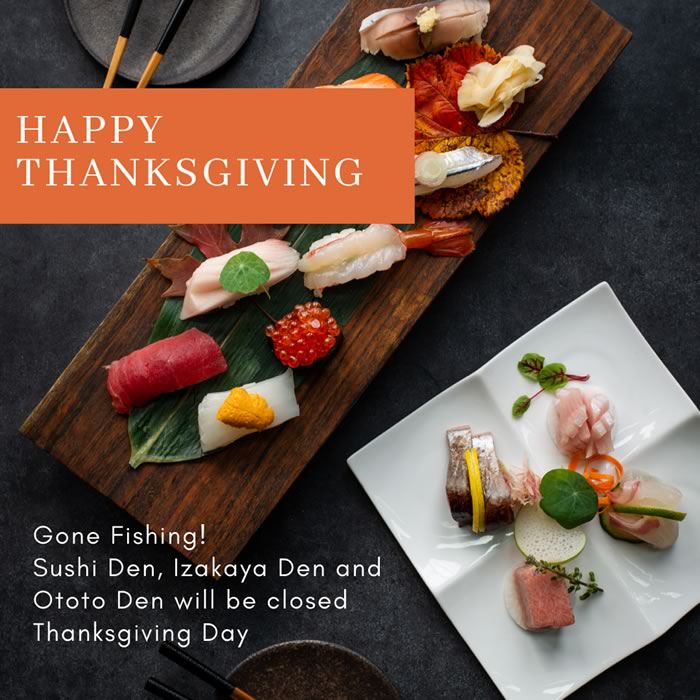 Wishing you a very Happy Thanksgiving!

All 3 of our restaurants will be closed on Thanksgiving Day in observance of the holiday.
We'd like to take this moment to express our sincere gratitude to you, our guests, who have been the cornerstone of our lives here in Denver for 35 years. Thank you!

I hope you have been well and getting ready for the holiday season as well as all other fun activities this winter!
This is the time of the year we reflect back on all the fun we have had with you this past year.
This is our 35th year since opening a small Sushi Den.
We have subsequently added Izakaya Den 12 years ago and also OTOTO 4 years ago.
What we are most proud of is we have many wonderful staff.
We spend so much time together and sometimes we spend more than with our own family.

We have also deepened the relationship with our guests. Many have become our dear friends. Many guests still continue to choose us for many of their life celebrations. For this, we are truly grateful!

It has surely been a fun ride with you so far and we will continue to do so in 2020.

Most sincerely,
Yasu and Toshi
---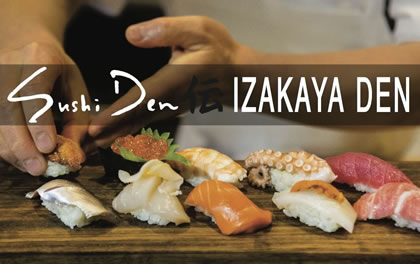 Holiday Gift Ideas!
Looking for a unique gift? Our gift cards are very popular for holiday gift-giving!
Each of our restaurants has a specially designed Gift Card for your holiday gift exchange occasion.
Sushi Den and Izakaya Den Gift Card
This card is transferrable between 2 restaurants, Sushi Den & Izakaya Den.

OTOTO Gift Card
We have designed a few offerings for you. From our Classic gift card to specific offers.
Please note at this time, the OTOTO gift cards are redeemable only at OTOTO.
---
Recap of 2019
Den Corner Summer Rooftop Party (August 2019)

This was our 4th year having 2 days of fun party with street food on the rooftop of our garage.
Like we do every year, we flew in 20 chefs from different parts of Japan.
Not only that, but we also had 8 of Denver's well known chefs join this year's  event. It was done in a form of traditional street food called "Yatai".
For the last 4 years, we have donated $220,000 to various organization  including Kumamoto Castle and  Denver's We Don't Waste .
Kumamoto is where we are from, on the southernmost island of Japan. Our fish comes from the surrounding waters of this island.
Our youngest brother handpicks the freshest fish from the market and sends them to us  directly.
Let me share the beautiful video images of Kyushu island
---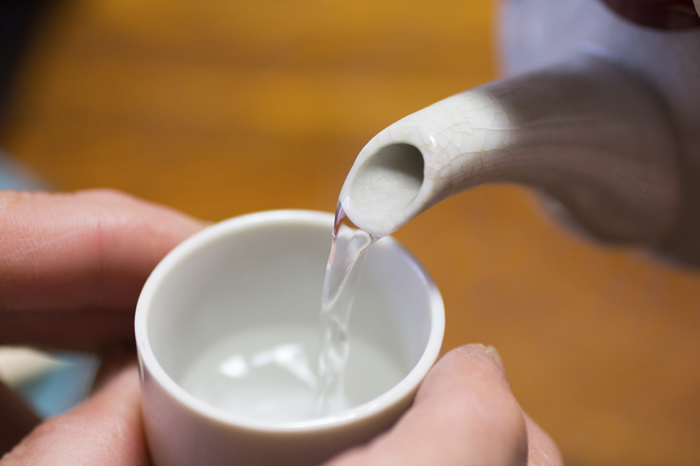 Early Summer Sake Tasting (May 2019)
In recognition of the UNESCO World Heritage cultural celebration of Japanese  cuisine, as well as Sushi Den's 35th year in business, in mid-June, we organized the  Sake Dinner at OTOTO.
For  this, we brought in one of the most respected Sake Breweries in Japan called, Hakkaisan
We are planning to bring in these top breweries in April 2020. More details announced in the spring of 2020.



Fall Grand Sake Tasting (October 2019)
7 Sake Breweries from 7 different regions of Japan attended this fall event and these sake breweries are some of the best ones we can find in Japan .
Please see this the black and white as well as color images of this Sake  Event,
Images are taken by Jennifer Piccollo
More details announced in mid-summer of 2020.
---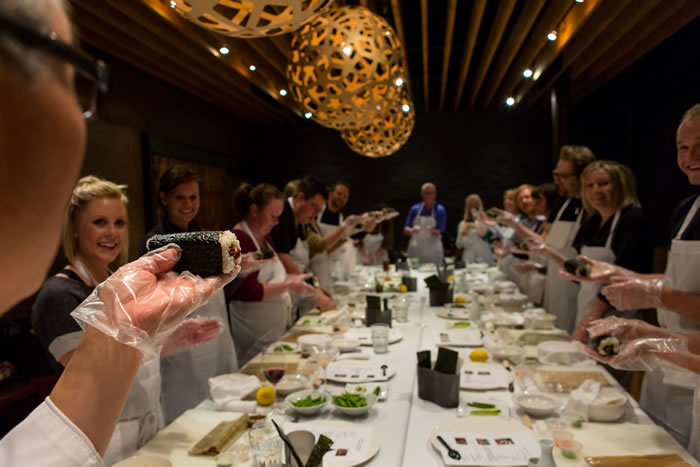 Sushi Making Class
For the last 12 years or so, we have been gradually increasing the number of class attendees and we are now reaching 1700 guests a year.
This class started as the "simple request", however the class has grown to have a rather large following each week.
We have so much fun teaching the class!
More Classes are coming in 2020!
---
Other News!
Shhhhh …..! We are planning to open a new restaurant in late 2020 with a rather unique concept which Denver has not experienced yet.
This is something many guests who visit Japan are familiar with.
More details will be shared sometime next year!