Greetings from Den Corner Restaurants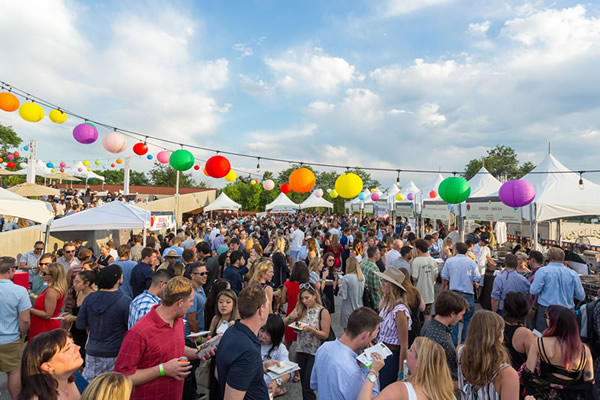 The Menu is Out!

Hello! Yasu here with the latest updates from Den Corner.

I hope you have been well and enjoying this gorgeous weather!
This is our 4th year and, with each year, it has gotten better and much more exciting!
  This Japanese Street Food Festival is a fundraiser - one for ongoing restoration of our hometown's Kumamoto Castle, and the other one for Denver's non-profit, We Don't Waste.

For this event, like we do every year, we are also flying in 20 handpicked chef/owners 
from southern Japan to join this event.  
Please check the Street Food Festival Menu created by Denver Chefs and Japanese Chefs

Tickets are going fast and we would speculate it would all be gone in the next 2 weeks.
Please join us if you are around. See details below!

Sincerely,
Yasu and Toshi
---

Den Corner Annual Summer
Rooftop Party
August 27 (tue) and 28 (wed)
VIP Admission - 5:00pm~6:30pm~
Early VIP Entry between 5:00-6:30 PM and you can continue to stay until 9:30pm
$135.00 + tax and online handling charge - 5 drink tickets
Regular Admission - 7:00pm~9:30pm
$110.00 + tax and online handling charge - 5 drink tickets
$90.00 + tax and online handling charge - 3 drink tickets

The tickets are sold only through Eventbrite
No tickets available at the restaurants.
Limited Quantities:
PURCHASE TICKETS NOW
Our Premier Sponsor is INFINITI OF DENVER
The media sponsor is Dining Out Magazine and Mix100 radio station
---
$1000 Reward for the Missing ENGAGEMENT RING

We never include the information such as this in the newsletter, however we have felt so sorry for this guest.
On Monday evening, July 22, the guest who dined with us sat at the patio. While dining, this guest put an engagement ring in a Raybans sunglass case.
However she left a restaurant without the sunglass case. Naturally, she also left her engagement ring with the case.
Our staff has done an extensive search, however so far, we have not been able to find it.
Therefore, if there is any information on where it is located, this guest is offering a reward for information.
The guest's phone number is 281-794-8541.
---
Rooftop Party Volunteers needed August 27 & 28

For our Japanese Street Food Festival featuring local stellar chefs is on the rooftop of our parking garage.
The party is at the end of August and the sun is OUT!
Please be aware that volunteering does include standing outside for minimum four hours per shift. 
Therefore, you must be physically fit for the weather conditions. 
Bring sunscreen, shades, hats whatever you need to protect you from the sun.
Hospitality and Food Industry experience is preferred.    
If interested, please reach out to info@sushiden.net
---
Other News
What's in the Works!

Home Cooking Dinner Event in mid-August - 30 guests only - more to come soon!
Fall Sake Event in Mid-September - 200 guests - more to come soon!
Visiting Japan
With a direct flight from Denver to Tokyo, Japan is now within easy access.
Some of you often ask us to recommend a few great restaurants in Tokyo. 
I can share the list of the Top 50 - most influential list.
I also personally lead a small gastronomic tour in the fall. 
This year, after visiting Tokyo, we will head for my home island to experience the beauty of Kyushu island, 
including seeing the progress of the recovery of the Kumamoto Castle. 
This is the island where some of the our restaurants' fish are from.
If you are interested, please directly contact me at yasu@sushiden.net now!
No information available at the restaurant.