This is the 2nd e-mail about Fall Sake Event to those of you who did not have time to read it last time.
Can you believe it is already September?
Our Annual Rooftop Party was a great success! We had over 1900 guests for 2 nights and we had blast!
It was a sold out event. For those of you who joined the party, thank you very much for coming! We had a great time with you! I hope you had a blast like we did.
However, we also had many inquiries for the extra tickets at the very last minute. Unfortunately, we are very sorry we had to turn away these requests and this happens every year. 
This is due to the space limitation as well as the weight limitation on the top of the garage. Thank you for your understanding.

So, when the tickets for the Rooftop Party were going fast, we have already decided to offer a Fall Sake Tasting in September. 
As you know, we have already done this Sake Event many times before and our mission is to introduce the wonderful world of sake to our guests.
Our master sushi chef, my brother, Toshi personally curates our premium sake list at our 3 restaurants. The theme for this event is travel through 6 different Sake Tasting Stations located on Izakaya Den's first and second floors, and sample our flavorful passed hors d'oeuvres along the way. This is not a sit down sake dinner event.

This time, with short notice, we have representatives from 7 Sake Breweries from 7 Different Regions of Japan who will attend the event with their sake. In fact, some are specifically flying in from Japan for this event. When I contacted them a few weeks ago, they loved the idea! This is because the rice harvest season is only one month away in Japan and it is the slower season right now before they get crazy busy for the rice harvest and then followed by the sake brewery season that will last until February or March next year. 
Please join us for our Annual Fall Sake Tasting Event. It is likely the tickets will go very fast, so please secure your spots now!
Kanpai to you!
Yasu 
---

Sushi Den/Izakaya Den Fall Sake Tasting
Taking place at Izakaya Den
Monday, September 23rd, 2019
6:00pm entry or 7:00pm entry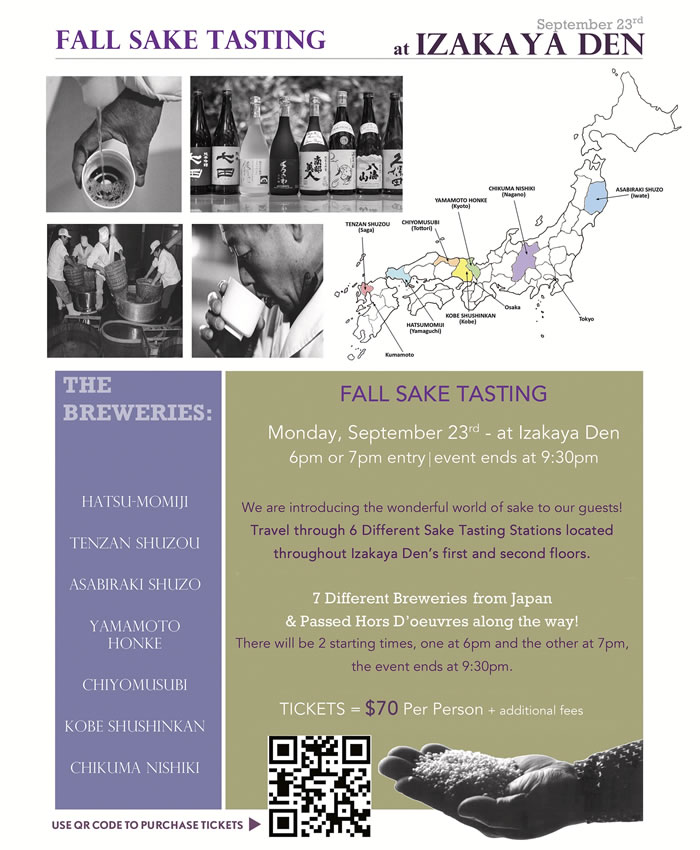 Sake Tasting Time
As you notice, there will be 2 starting times - 6:00pm and 7:00pm. Please choose the one that would fit your schedule.
Ticket Price 
$70 plus tax - PURCHASE TICKETS NOW
Tickets good for this event only. No refunds, tickets may not be redeemed for cash and have no cash value. 
What is included
6 Sake Drink Tickets, Sample our flavorful passed hors d'oeuvres and Sake Cup to take home
Sake Breweries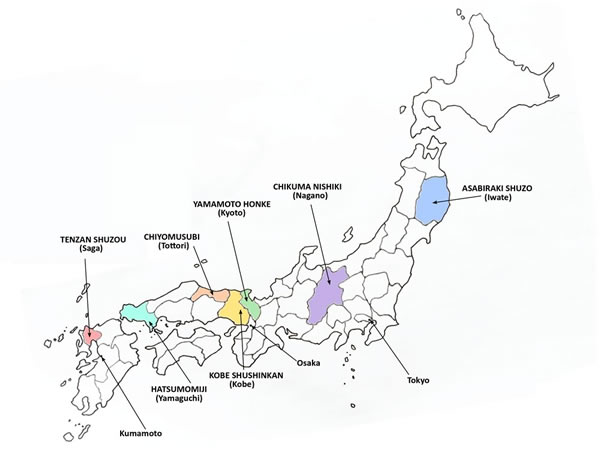 · Asabiraki Shuzo - www.asabiraki-net.jp - Iwate Region
· Chikuma Nishiki - www.chikumanishiki.com - Nagano Region
· Yamamoto Honke - www.kyotosake.com - Kyoto Region
· Kobe Shushinkan - www.shushinkan.co.jp - Kobe Region
· Chiyomusubi - www.chiyomusubi.co.jp - Tottori Region
· Hatsumomiji - http://hatsumomidi.co.jp/ - Yamaguchi Region
· Tenzan Shuzou - www.tenzan.co.jp - Saga Region 
Passed Hours D'oeuvres and Serving Style
Please note this is not a sit down sake tasting dinner. We will have a variety of passed Hours D'oeuvres throughout the tasting.
---
Volunteer Photographer Needed
We are looking for a volunteer photographer age 21+ for this sake event in exchange for complimentary admission to enjoy the event after taking photos from 5:45-7:45 PM. 
From 7:45 PM on you can enjoy the sake and hors d'oeuvres with the guests. Photo credit will be given.
If you have experience in taking event and food photos,  capturing the fun everyone is having, we would like to hear from you.
Please send us an e-mail along with your website if you have one.
5:45pm~7:45pm - Taking photos
7:45pm - Enjoy yourself!  Kanpai time for you!