Thank you for all your well-wishes. After we sent the newsletter yesterday evening, we received so much traffic in the past 24 hours, that it crashed our websites, which is very rare for restaurant sites to experience! (We could not ask for a better Holiday present). We are resending this email to let you know we have just upgraded our web servers and our websites are back online for your enjoyment. (Gift Cards and Sake Event Tickets are back on sale, links below).

DEN Corner Holiday Hours Posted Here

My Recent Gastronomic Visit to Japan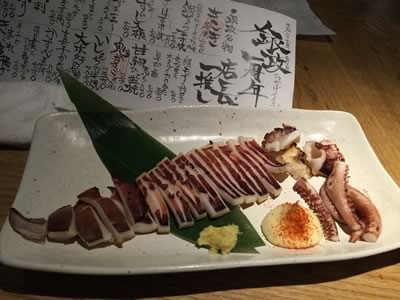 Grilled Flying Squid in Tokyo

Click here to Watch the Video.

You may probably know, Japan's population is just about 100 million. Tokyo, the capital of Japan, has 13 million people and it is the home to 14 3-Star Michelin restaurants. Compared with the United States with 350 million people which has 11 3-Star Michelin restaurants. Japan has far more than any other countries.

I ate and drank my favorite sakes all the way through. After staying in Tokyo for 4 days, I left for Kyoto and stayed there for 4 days, and then headed down to my hometown, Kumamoto in southern Japan. I have never done this many fun things in such a short period of time. My highlight was to visit the fish markets both in Tokyo and also in Kyoto. I saw many activities behind the scenes. Another thing I immensely enjoyed was visiting sake breweries in Fushimi one of the premier regions for sake brewing, where the breweries are clustered together within walking distance of each other, in the southern part of Kyoto. I visited 3 of them. Since our restaurant group sells a few particular sakes far more than any other places in United States, I was given the VIP treatment there. I was so impressed with how much passion they have for what they do.

I am planning another visit in 2016 and I cannot wait!




KAZU OBA DEN SHOW
Now through December 27 at Gallery 1505
(One block south of Sushi Den)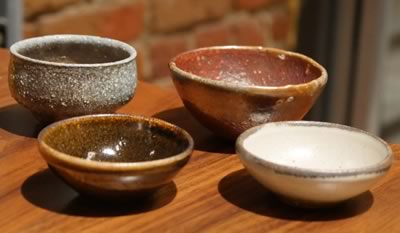 Special Holiday Gift for Den Corner Customers!
Available December 23-27 Only! Click link to poster for details.
Kazu Oba, is a Japanese ceramic artist native to Japan and also our good friend of the restaurant. With the popular demand, we are bringing back his 3rd annual ceramic event - DEN SHOW. If you have any question, please contact Kazu for more details, 720-272-7293.


HOLIDAY GIFT IDEA
SLICED! SUSHI MAKING CLASS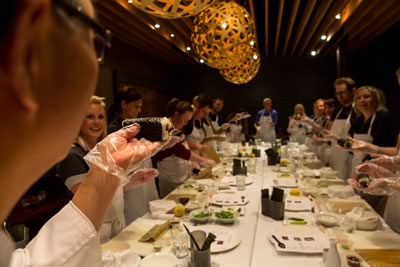 The perfect gift idea for the Foodie in your life!
Join the seasoned chefs behind the Den Corner restaurants - Sushi Den, Izakaya Den and OTOTO for a tasty, informative culinary experience where you'll learn to create all styles of sushi rolls and nigiri sushi. After the class, the group sits together for a meal that includes over 20 pieces of sushi, miso soup and green tea. Reservations Required. You can reserve your spots as soon as January 13th & 14th!
You can reserve your spots as soon as January 14th!

Sushi Class Gift Cards: http://izakayaden.3dcartstores.com/Sliced-Sushi-Making-Class--Gift-Card_p_18.html
Reservations and Details: http://sushiden.net/sliced/


Sake Pairing Dinner Series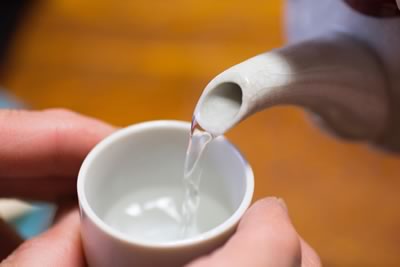 As you may know, the long awaited Sushi Den and Izakaya Den's little brother, OTOTO, opened three months ago. It is a charming little spot right across the street from Sushi Den on the same side. OTOTO has a more casual ambience, and while we don't serve sushi there, we feature a raw bar including sashimi and oysters, Robata grilled skewers, as well as a premium sake list. In celebration of opening this little spot, we will be having a series of Sake Dinners centered around our master chef, Toshi's favorite selection of sake. We still have some space left for the next one on February 19th (Tue). For each sake dinner, we will have a sake specialist to explain the pairings and answer any questions you may have. We are also planning March and April Sake Dinners, dates to be announced soon.

Dinner Menu
Please note that Gluten free and vegetarian options are not available.

Buy Tickets Online
Ticket for Each Dinner - $100 - inclusive of food, sake, tax and gratuity
Seating limited to 50! Reserve your Ticket now!
Click Here to Buy Tickets for Tues, February 9th, 2016
Tickets are Non-Refundable
Tickets good for this event only. No refunds, tickets may not be redeemed for cash and have no cash value.


Holiday Gift Card
Give a gift of delicous Food and Sake!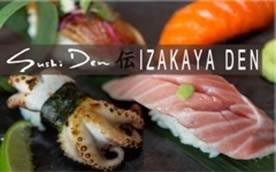 It is the great way of showing how much you care! Our restaurant gift card is just ideal for these occasions!
Buy Gift Cards Online


DEN CORNER SPECIAL HOLIDAY HOURS

Our Holiday Hours for all three restaurants are now posted.
You can view them here.


EXCITING NEWS!


Follow us on Facebook and Twitter!


By signing up, you will be the first to know about our "Catch of the Day" as well as all types of exciting events taking place at Den corner restaurants.
Sushi Den:
Izakaya Den:
OTOTO Den:



How Did I Get On This List?
One of several ways: you either filled out a card at our restaurants with your email address, or you signed up on our Web site, through Open Table, or at the Farmers' Market drawing table. Please note that you will receive no more than 2 newsletters per month and be assured that your information will be kept strictly confidential. We will only be using your contact information to directly communicate with you. If you no longer wish to receive these emails, please reply to this message with "Take me off this list" in the subject line or use the link at the bottom of this email. We apologize if you have received this email in error.



visit sushi den | visit izakaya den | visit ototo den
Copyright © 2015 Marketing Alliance Network, LLC