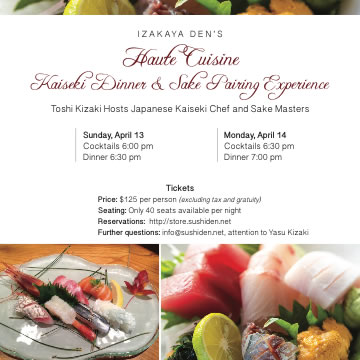 Kaiseki Dinner and Sake Pairing Experience

Sushi Den and Izakaya Den are proud to present a unique dining experience, Kaiseki Dinner with Sake Pairing Experience.

Izakaya Den will host a traditional "Kyoto Style Kaiseki" and sake pairing dining experience in partnership with esteemed Japanese Kaiseki chef, Mr. Hayashi, and the sake will be paired by Japanese sake masters, Mr. Inoue Tadatsugu and Mr. Kondo Akira, April 13 and 14.

The 8 course dinner will be prepared for a maximum of 40 guests each night. Our dining room in the Ten Qoo Sky Lounge, upstairs at Izakaya Den will be arranged to create a festive and communal atmosphere for guests to interact with their neighbors and share comments from each pairing.
Kaiseki is a sophisticated and elegantly presented preparation of fish, vegetables and meat. Kaiseki chefs are the highest regarded chefs in Japan in terms of skill and execution.

Kaiseki is comparable to "haute cuisine" in France. Kaiseki cuisine originated to "be one with nature", so the image is of fresh and high quality ingredients. The skills of the Kaiseki Chef are refined and require special techniques that other chefs don't use.

This is a very rare opportunity for our guests to experience at Izakaya Den what they can experience in Japan.

Please join us for this exciting event in mid April!
Sincerely,
Toshi Kizaki
Learn more & Reserve Tickets
Only 40 tickets available per night!
Follow us on Facebook and Twitter!


By signing up, you will be the first to know about our "Catch of the Day" as well as all types of exciting events taking place at Den corner restaurants.
How Did I Get On This List?
One of several ways: you either filled out a card at our restaurants with your email address, or you signed up on our Web site, through Open Table, or at the Farmers' Market drawing table. Please note that you will receive no more than 2 newsletters per month and be assured that your information will be kept strictly confidential. We will only be using your contact information to directly communicate with you. If you no longer wish to receive these emails, please reply to this message with "Take me off this list" in the subject line or use the link at the bottom of this email. We apologize if you have received this email in error.