Happy Friday to you, everyone!
In this newsletter, I have a bit of news to share with you.
Approximately 3 weeks ago, we had our 2nd Annual Den Corner Rooftop Party co-sponsored by 5280 Magazine.  
This year, 20 chefs flew in from a different part of southern Japan to create a street food booth called "Yatai".  Please see these images from the 1st night of the Rooftop Party.
You may find the images of you here. I will post more images from the 2nd night in our next newsletter.  
We also had over 1600 guests for 2 nights' event. It was a fun filled event, and the food preparation was quite intense and the logistics were alos complex. And we are still recovering from the event, that very happy kind of exhaustion.
In any case, taking up this opportunity, we would like to express our sincere gratitude for your support. You have always been so kind to us!
I would like to also thank all the volunteers as well as our staff. Without your support, we could not have done this event again. Thank you!
We are now working on the donation figures and will announce in the next newsletter.
Lastly, in our restaurant industry, the business often slows down in the fall until Thanksgiving is over. So making more of this rare opportunity, I will be soon heading to Tokyo and Kyoto leading friends and guests to visit the world famous fish market, Tsukiji as well as sake breweries in Kyoto. In between, we will be feasting all type of Japanese food including sushi.
I will post images from Japan on Facebook. So stay tuned!
Sincerely,
Yasu and Toshi
---
Gone Fishing!
This year, Chef's Choice Dinner is coming to the end very soon.
Toshi will be taking a little break until at the end of the year.
We will start offering the dinner in the beginning of the year again. However, meanwhile, we still have these nights available. Please join us for the private dinner in our little private room, called Denchu.
• October 28th(sat) – 6 spots
• November 4th(sat) – 6 spots
• November 11th(sat) – 6 spots
This room can also be rented for your special occasion. Please inquire for the further details, events@sushiden.net.
---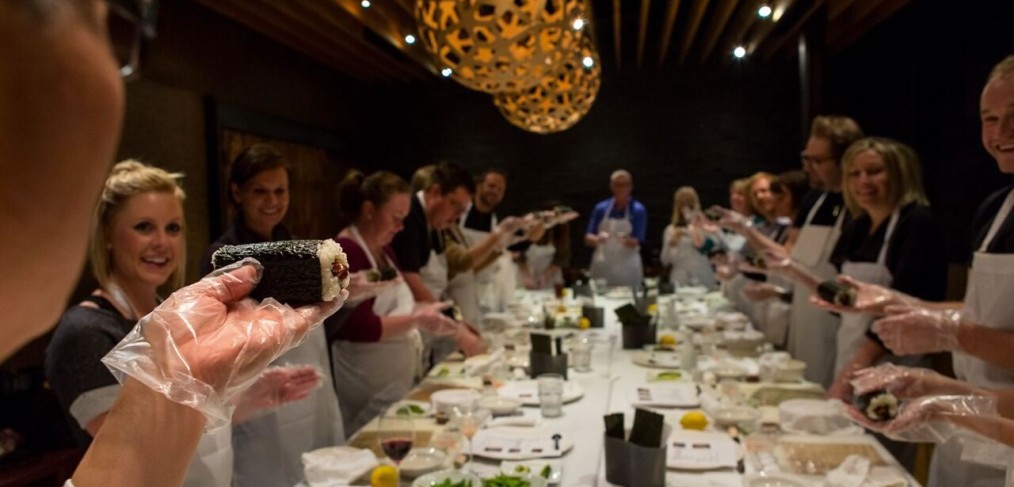 "Sliced!" Sushi Making Class
We have been busy running our fun sushi making classes. Every year, we host approximately 1000 guests, however this year, we have already hosted 900 guests so far. The class is fun and informative and it is also ideal for your date night or birthday celebration or entertaining your clients or just for fun. There are spots are available at November and December classes. Read more about Sliced….
Dining Out wrote about our fun class, Read Here.
Please also see the images from the class, View Photos.
---
Fall's New Cocktails
There is a little back story for these cocktails.
These drinks are created to celebrate Denver people and Kumamoto people. The name Kumamoto Kiss in particular very much symbolizes "love and compassion" of Denver people and Kumamoto people. Our fundraiser is supported by Denver people and also chefs from Japan who want to help Kumamoto to bounce back. That is the reason why we decide to name one of the cocktails, "Kumamoto Kiss".
Kumamoto Kiss
Meet Your Match-a
5 Rings
Yamabushi Blossom
---
Media Worthy
We have made it to a bunch of local and national media for the last few months including these. We are truly honored!
• 5280 - The 25 Best Restaurants in Denver, 2017
• Nations' Restaurant News