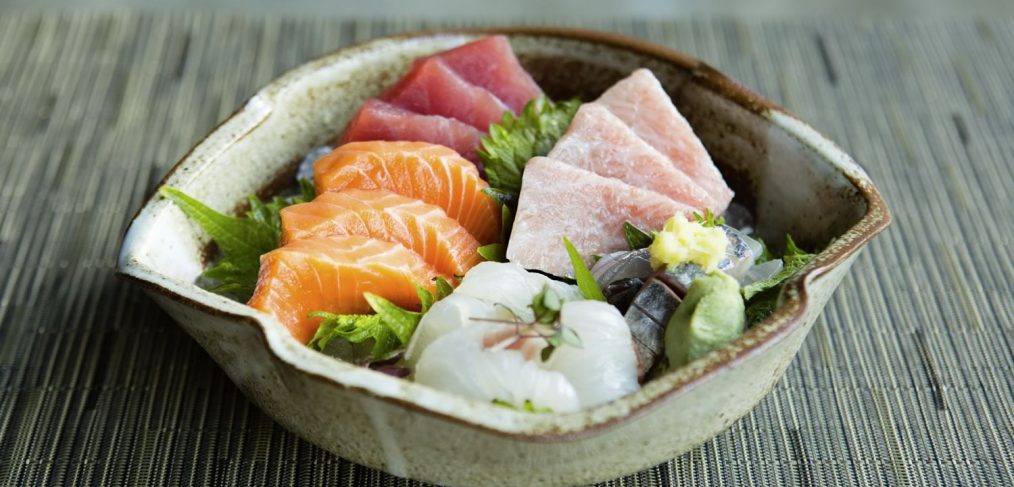 CHEF'S TABLE (Private Dinner, Omakase Menu)
Behind the hanging noren fabric curtain in the entry, and through its folding doors you enter this peaceful, private space at Sushi Den, called "Denchu" (our Chef's Table) with seating for a maximum of 8 guests at the private sushi bar and table.

It is recently named one of the top nine exceptional Omakase ("Chef's Choice") menus in the United States by the national online food community Eater, Sushi Den's Omakase menu has gained national recognition for its fresh and authentic selection. 
Enjoy six courses including premier sushi and sashimi from a wide variety of freshly caught raw fish directly shipped from the renowned Nagahama Fish Market in the southwest tip of Japan. Our Omakase menu at Denchu in Sushi Den also offers cooked courses as well as servings of seasonal, freshly picked vegetables. The seasonal ingredients are flown in from different markets including the Japanese fish market. The chef's choice meal is created by our master chef, Toshi, in the morning when the shipment arrives, he creates the menu for your special dinner that evening. Each Omakase is unique and based on the finest ingredients from that day's shipments.
This is the place to host your very special intimate occasions such as anniversaries, birthdays, job promotions, entertaining your clients, date nights and more.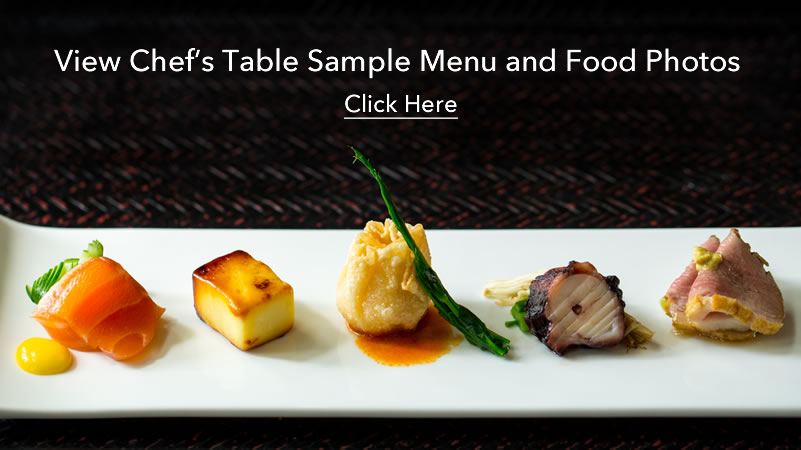 DETAILS:
Download Chef's Choice Dinner Reservation Form (PDF)
(Please print out this form PDF. If you do not have a printer, please email the requested information to the address listed on the form).
The maximum number for the private Denchu Room Omakase reservation – up to 8 guests.

You can also reserve the entire room or each individual can reserve the spot(s).

Price point begins at $120 per person excluding, alcohol, tax, and gratuity.

Menu subject to change based on the availability of ingredients.

Please be advised:

 No gluten free menu or substitutions available.
CHEF'S CHOICE DINNER GIFT CARDS: Please order online >
Surprise your loved ones with a Chef's Table dinner in the Denchu Room with private chef, by giving our Chef's Choice Dinner Gift Card!
Perfect for the holidays, intimate celebrations, special occasions, book ahead for Valentine's Day or rally up the girlfriends for an exceptional dining experience.
Price per person is $120, for two is $240, and so on. Maximum seating per night is 8 spots. Friday and Saturday nights only.
To reserve seating at the Chef's Table, the gift card recipient must make a reservation by filling in the Reservation Form and e-mail it back to Events@SushiDen.net, attention to "Nokkie" who manages the Chef's Choice Dinner reservation.
2017 UPCOMING CHEF'S CHOICE DINNER: Last updated 2.18.17 1:59 PM 
February 2017
February 24th(fri)  -6:30PM   

FULLY BOOKED

 
February 25th(sat) -6:30PM  2 SPOTS AVAILABLE
March 2017
March 3rd (fri)  -6:30PM   8 SPOTS AVAILABLE
March 4th (sat) -6:30PM   6 SPOTS AVAILABLE
For more information such as future dates available, or reserving the entire room (8 people maximum), please send your inquires to Nokkie at Events@SushiDen.net.