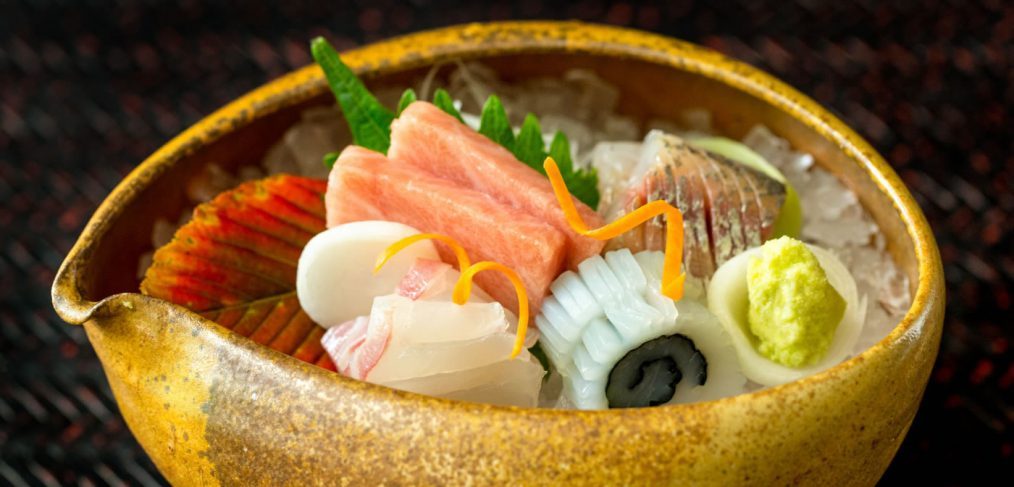 CHEF'S TABLE PRIVATE DINNER
Omakase Menu
What is Chef's Table? 
At Sushi Den, behind the hanging "noren" fabric curtain in the entry, and through the folding doors you enter a peaceful, private space called "Denchu" where your Chef's Table is with the private chef's counter and tables.  It is recently named one of the top nine exceptional Omakase ("Chef's Choice") menus in the United States by the national online food community Eater, Sushi Den's Omakase menu has gained national recognition for its fresh and authentic selection.  This is the place to host your very special intimate occasions such as anniversaries, birthdays, job promotions, entertaining your clients, date nights and more.
DETAILS:
Omakase Chef

Toshi Kizaki is the owner and master chef, named as one of the top 200 chefs in United States by Opinionated by Dinning. In the morning when the shipment arrives from numerous markets, he designs the menu and prepares your special dinner in front of you that evening. Each Omakase is unique and based on the seasonal ingredients from that day's shipments from different markets.
Number of Seatings: 8

Each individual can reserve spot(s) or you can also reserve the entire room for your group, up to 8 guests.

Seating Arrangements

6 guests at the chef's counter and 2-4 seats at a table. If you have a seating preference please include it with your form. Seats will be designated by a first come first serve basis.
Please see the room layout, View Gallery
Menu

Enjoy 6 courses personally selected by Chef Toshi, including premier sushi and sashimi from a wide variety of freshly caught raw fish directly shipped from the renowned Nagahama Fish Market in the southwest tip of Japan as well as local cuts of meats like Colorado lamb. Our Chef's Choice Omakase menu also offers cooked courses as well as servings of seasonal, freshly picked vegetables. Please see sample menu.
          ♣ Menu subject to change based on the availability of ingredients.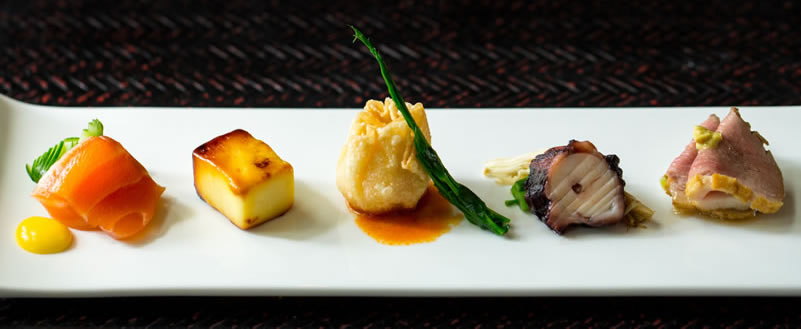 Cost

Price point begins at $120 per person excluding, alcohol, tax, and gratuity.

How to Reserve your Seating

Download Chef's Choice Dinner Reservation Form (PDF)

. Please send your reservation to

"Nokkie" at Events@SushiDen.net

♣

Important Advisory: It is crucial for you to inform something very important to anyone who joins you at the Chef's Choice Dinner.Because our master chef carefully selects all the ingredients including from the direct shipment from Nagahama Fish Market in Southern Japan as well as sauces and stocks he uses for the dish, we are unable to accommodate any dietary restrictions or allergies.  No gluten free menu or substitutions available. Please do inform your party when booking for your group about this important advisory.
Please read our Cancellation Policy.
---
AVAILABLE DATES:

Last updated 10.19.17 7:34 AM
Even if the chef's choice dinner is listed "full", in order to be placed on a waiting list, please send your request to "Nokkie" at Events@SushiDen.net.
Whenever there is a last minutes cancellation, we will immediately offer those on our wait list the open spot(s).  Wait list guests will be notified 24-48 hours before the dinner date to be informed if a spot opens. Booking is based on a first come first serve basis. 
October 2017
October 20th    (Fri)    -6:30PM   

Fully Booked

 
October 21th   (Sat)    -6:30PM   Fully Booked
October 27th   (Fri)     -6:30PM   2 SPOTS AVAILABLE
October 28th   (Sat)    -6:30PM   6 SPOTS AVAILABLE
For more information such as future date availability, or reserving the entire room (8 people maximum), please send your inquiry to "Nokkie" at Events@SushiDen.net.
---
Surprise your loved ones with a Chef's Table dinner in the Denchu Room with private chef, by giving our Chef's Choice Dinner Gift Card!
Perfect for the holidays, intimate celebrations, special occasions, book ahead for Valentine's Day or rally up the girlfriends for an exceptional dining experience.
Price per person is $120, for two is $240, and so on. Maximum seating per night is 8 spots. Friday and Saturday nights only.
To reserve seating at the Chef's Table, the gift card recipient must make a reservation by filling in the Reservation Form and e-mail it back to "Nokkie" at Events@SushiDen.net

.