Happy Spring to you!
Hello! Yasu here with the latest updates from Den Corner.
While 3 of our restaurants keeps all of us very busy, we are now gearing up for our Den Corner Annual Summer Rooftop Party. In fact, Toshi has just come back from Japan. He was there meeting with restaurants' owner-chefs in southern Japan who will be serving you "street food" at the Rooftop Party. Toshi had a wonderful experience spending time with these talented owner-chefs over sake and sashimi. We are flying in these 15 chefs from southern Japan for our summer party!
Now, while I was holding down the fort what I did on my end was to work on inviting Denver's own top chefs to join our summer party.

And we have 6 of Denver's talented chefs joining our event and showcasing their version of street food.
We are also promoting a few of Denver's unknown, yet upcoming chefs. 
This will be a fundraiser for non-profits – benefitting both Japanese ongoing earthquake restoration in our hometown, and Denver's We Don't Waste. 
By the way, after announcing our summer party 13 days ago, out of 1700 tickets, we have already sold 550 tickets as well as 5 VIP tables as of yesterday. 

It is likely it will be sold out next 2 to 3 weeks' time. Please join us if you are around. See details below!
Sincerely,
Yasu and Toshi
---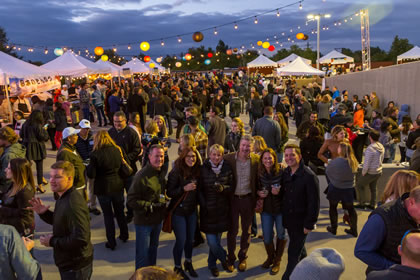 Den Corner Annual Summer
Roof Top Party
June 26(tue) and 27(wed), 2018 - 6pm
This year, what is different from last year is we will have 10 VIP corporate tables with reserved seating for 8 guests at one table.
It will be a fun summer party a week before July 4th! Join us and feast on street food prepared by Japanese chefs and some of Denver's best chefs!
Denver chefs include; Alex Seidel, who just won James Beard Award for Best Chef of the Southwest, Troy Guard, Paul C. Reilly, Jon Lavelle, Chris Teigland, Ariana Pope, and Michelle Garcia.
A portion of the proceeds will benefit Kumamoto Castle Earthquake Relief and Denver's local non-profit, We Don't Waste.
Tickets and Further Information:
www.sushiden.net/rooftop
---
Other News
What's in the Works!
Sushi Class - we have accommodated approximately 650 guests so far this year for the fun sushi making class. I personally teach the class and love spending time with you
Come join me at class.
• Den Corner Progressive Dinner - starting this August we will be offering this rather exciting, special, progressive dinner at Sushi Den, Izakaya Den and OTOTO, tasting each restaurant's specialties. First start is at OTOTO for an appetizer course of sake and Binchotan grilled skewers. Then move on to Sushi Den for sashimi and sushi for the main course, and lastly you finish your dinner at Izakaya Den with dessert and summer cocktails! More information coming soon!
• Visiting Japan - with a direct flight from Denver to Tokyo, Japan is now within easy access. Some of you often ask us to recommend a few great restaurants in Tokyo. I can share the list of the Top 50 - most influential list. I also personally lead a small gastronomic tour. If you are interested, please contact me at yasu@sushiden.net now!