Season's Greetings
to you and yours!
The year is slowly winding down and Christmas is just around the corner.

The 12 days of Christmas are right before us.
With just about 2 weeks left in 2018, there is lot to share with you in this newsletter about what we are up to nowadays.
We hope your holiday season is filled with many festivities and fun outings with your friends and family! Stay safe and stay well!
Sincerely,
Yasu and Toshi
---
Great Gift Idea

Our gift card is a very popular gift for special occasions and the Holidays.
Sushi Den and Izakaya Den Gift Card is ordered through our website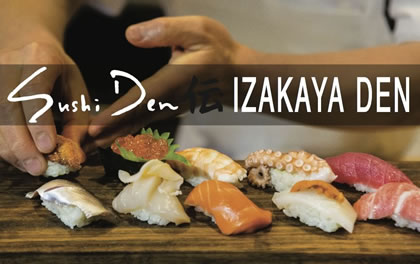 There are 4 types of gift cards you can purchase online.
One is for our regular, Classic Gift Card for both Sushi Den and Izakaya Den.

However, we also have 3 specific gift cards designated for our special events, that are purchased for a set amount, depending on the event.
One is for the Sushi Class taught by Yasu.
Another is for the private Omakase/Chef's Choice Dinner prepared by Toshi.
And then, we have a new Progressive Dinner, a food tour of our three restaurants in one night, with different courses/pairings served at each restaurant. 
Ototo Gift Card
The gift card for Ototo is good only at Ototo. We don't yet have an online ordering page.
To purchase, email your request to martin@ototoden.com during open hours Wednesday-Sunday. Our GM, Martin will contact you to provide all details.
Delivery Time
USPS - With less than 2 weeks until Christmas, mail delivery of the gift cards takes a little longer to arrive. According to the Post Office, it may take up to 10 days by USPS service.
However, delivery date is not guaranteed. Please expect delays on holiday deliveries.
Fed Ex Overnight - the cost is $25 to $30, depending on the destination.
Virtual Gift Card - if you are in a hurry, a Virtual Gift Card makes a great choice! You will receive our digital gift card directly via email instantly! In order to redeem, it can be printed out or show your confirmation card on your phone at the restaurant.
---
Den Corner
Holiday Opening Hours
Please be aware of our opening hours from Christmas Eve through New Year.
View Den Corner Holiday Schedule (PDF)
---
New Izakaya Den Website
Please enjoy visiting the new site!


---
Recap of 2018
3rd Annual Summer Roof Top Party
3rd Annual Summer Roof Top Party
Our rooftop culinary festival drew approximately 2000 guests over two nights.
20 Japanese chefs flew in from Japan to prepare their specialties for us. Acclaimed Denver chefs also wowed our
festival with food booths set next to the Japanese chefs.
The theme is "street food"  
While we continue to donate funds to the victims of recent natural disasters in our hometown in Japan, we have also chosen local and U.S. based charities including We Don't Waste in Denver.
So far, to all our partner charities, we have donated close to $150,000. This all came from your big, generous hearts. Thank you very much!
Japanese Fish Market Visit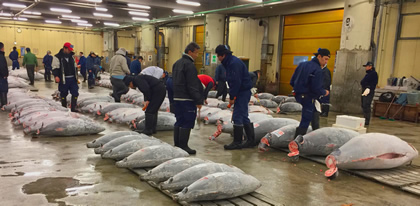 Every fall, Yasu has been personally visiting the 80 year old

Tokyo's Tsukiji Fish Market

to observe the world famous Tuna Auction. Please enjoy this video, The Tuna King Reigns at Tsukiji Fish Market
The Tsukiji wholesale fish market moved to a new location in Tokyo Bay, Toyosu, this past September 2018.  The general produce market at Toyosu opened to visitors in October this year, but the new tuna auction will only open to the public next year - slated for January 2019.

Kyushu Island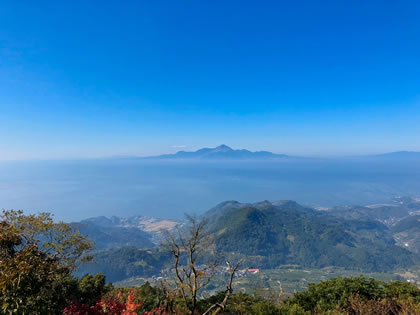 Many guests have been visiting Tokyo and Kyoto and these cities attract guests from all over the world.
Japan was just chosen as the 2018 Destination of the Year by

Travel and Leisure Magazine

.
Did you know there are more Michelin Star restaurants in Japan than anywhere else in the world?
However, the island where we were born is pretty much untouched by tourism. 40% of
the fish we serve at our 3 restaurants is sourced from the nearby Sea of Japan off of Kyushu Island.
So, on a personal level, I (Yasu) am planning to also head down to Kyushu island to lead my gastronomic tour from next year. Please enjoy the beautiful video of Kyushu Island!

34th year in Business
We are often asked why we do not venture out to other parts of town.
Synergies between the three operations, shared resources of staff, storage, and management are our most precious asset.

As an old Japanese story goes, a famous warlord in Japan 400 years ago, who was the father of three sons, gave each son one arrow and instructed them to break it.
Each son easily accomplished this task. He then gave them 3 arrows at the same time and told them to break the three together. They could not break the arrows that were grouped together. The father wisely told them, "Work together and help each other. You are much stronger together than separated."

On Christmas Eve day 34 years ago, we opened Sushi Den. It is hard to believe this is our 34th year since we opened, however we clearly remember "the opening night" 34 years ago. Oh my goodness! It was so exciting as well as so scary!  Along the way, we also opened Izakaya Den and OTOTO all next to each other. And each time was scary!

All these years, what we are most appreciative about is getting to know our many incredible guests along the way. Many have become our friends for life. And these friends make our life so rich every day. For this, we are truly grateful.