4th Annual Den Corner Summer Rooftop Party
August 27.tue and 28.wed
VIP Entrance – 5:00~6:30pm
General Entrance – 7:00~9:30pm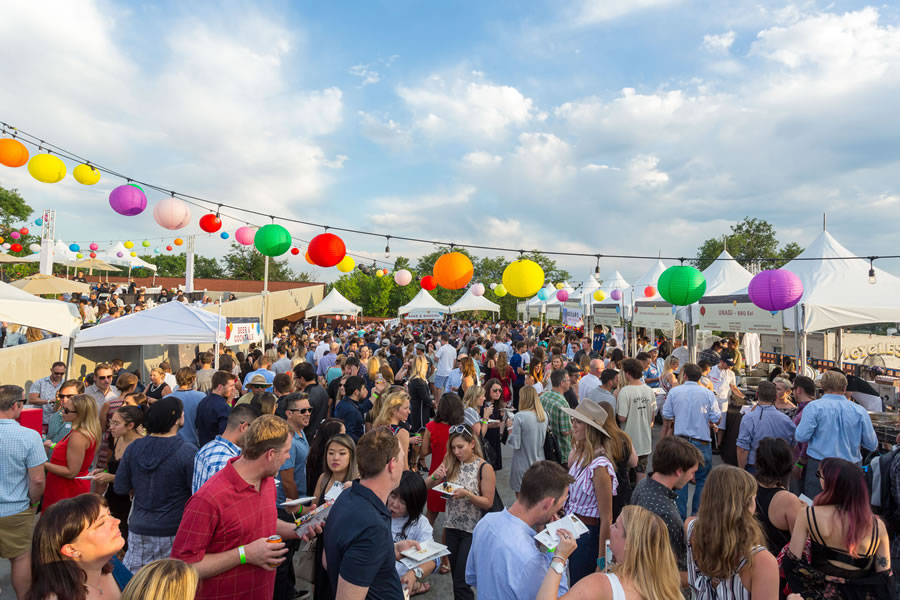 You are invited!  Every year our street food festival on our rooftop gets better and much more exciting!
This year, the two-day Japanese street fair brings Denver's culinary elite, view Chef's Page, who hold countless honors; James Beard Awards, Food & Wine "Best Chefs", and Bon Appetit "Best New Restaurants".
Like we do every year, we are also flying in 20 handpicked chef/owners from southern Japan to join this event.
In between juggling bowls of steaming ramen, hand rolls, and Yatai (Japanese street food), you can enjoy award-winning sakes, Japanese spirits inspired cocktails, international wines, and beers from some of Colorado's finest. Mingle or dance to the live notes of the Latin Jazz band and sample authentic Japanese street food and fare from some of Denver's Top Chefs. And it's all for a good cause!

The Rooftop Party was first inspired to benefit the victims of the devastating earthquake which hit our hometown hard, the Kumamoto Prefecture in southern Japan in 2016. Along the way, our beloved, longtime home, the U.S., has also experienced many unfortunate natural disasters, which we strive to support. Over the past 3 years, thanks to your generous support, we were able to send $195,000 to our partner humanitarian organizations in U.S., Japan, Puerto Rico and Mexico, including Denver's We Don't Waste.
With your assistance, over the last 3 years, the fundraiser has grown from 850 to 2000 guests over two nights, with tickets selling out months in advance.
Without your support this could not have been done. For this, we are truly grateful! You are so amazing. Thank you very much for assisting us for this great cause!
Most Sincerely,
Toshi and Yasu Kizaki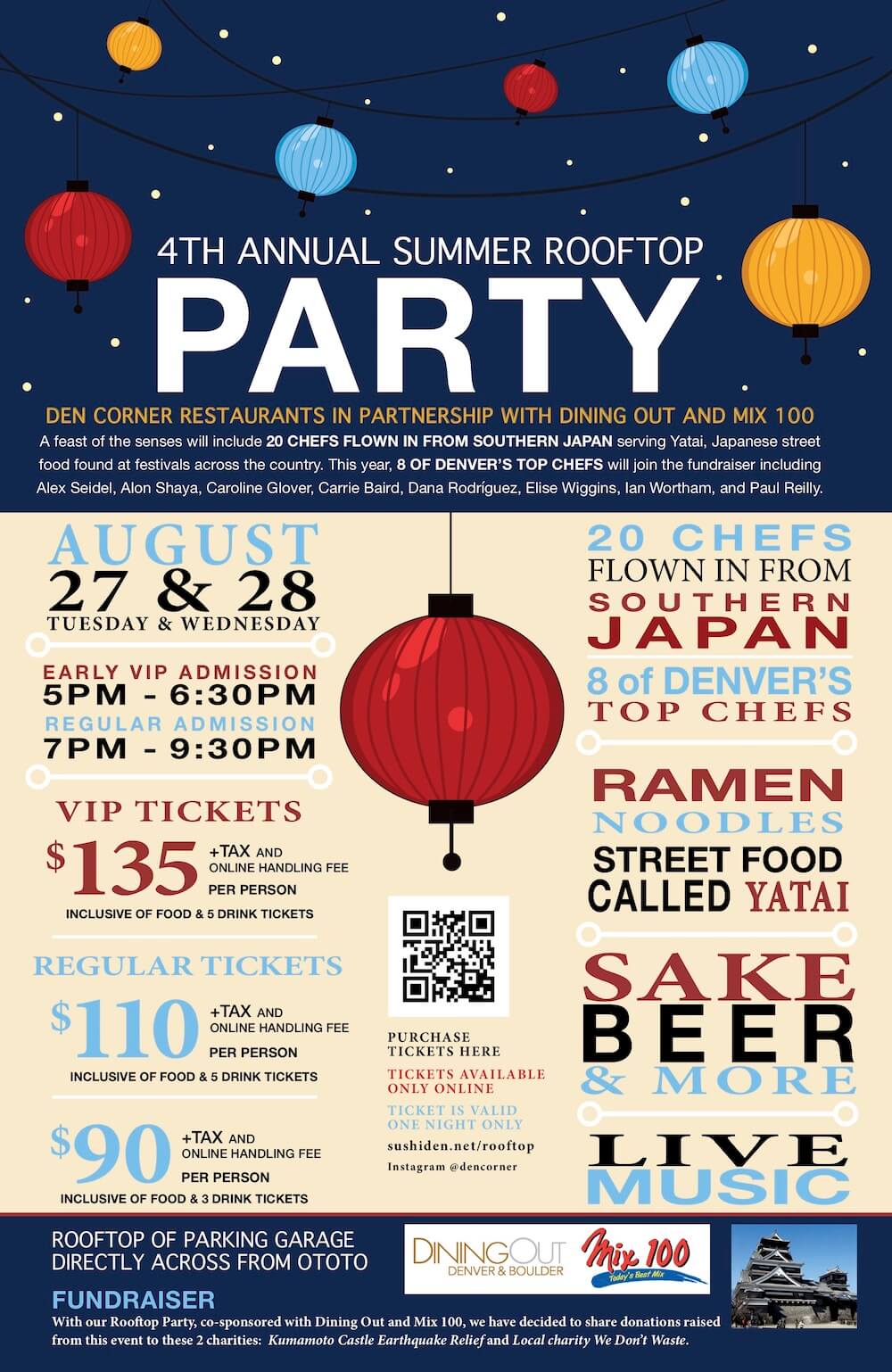 VIP Admission – 5:00pm~6:30pm
$135.00 + tax and online handling charge – 5 drink tickets
Regular Admission – 7:00pm~9:30pm
$110.00 + tax and online handling charge – 5 drink tickets
$90.00 + tax and online handling charge – 3 drink tickets
NOTES:
There is an option on Eventbrite that you can now list each name of your guests when you buy multiple tickets even if you are paying for all tickets. Otherwise, if all tickets are in the name of the Purchaser, you must be at the ticket gate with each person when they arrive to clear their entry. If you later find out the names of your party, can later add/update the names through Eventbrite.
If you would like to upgrade or transfer your ticket, Eventbrite is the only entity who can do this for you. Here are the simple instructions to do so.
---

---
Chefs:

Learn about the Chefs, view the Chefs' Page!
Denver Chefs:
Tuesday, August 27
Alon Shaya – Safta
Caroline Glover – Annette
Dana Rodríguez – Super Mega Bien / Work & Class
Ian Wortham – Tavernetta
Wednesday, August 28
Alex Seidel – Fruition / Mercantile
Carrie Baird – Bar Dough
Elise Wiggins – Cattivella
Paul Reilly – Coperta / beast + bottle
Japanese Chefs:
To be announced very soon!
Menus
To be announced very soon!
FAQ / Important DETAILS:
Can I buy a ticket at the restaurants?
It is available only online, not available at the restaurants.
VIP All-inclusive tickets (Includes 5 drink tickets) – $135 plus tax & handling fee
Regular All-inclusive tickets (Includes 5 drink tickets) – $110 plus tax & handling fee
Regular All-inclusive tickets (Includes 3 drink tickets) – $90 plus tax & handling fee
 Is the ticket for one day or two days?
Both the regular ticket and the VIP ticket are for one day.
Can I transfer my ticket to another person or update the name? 
Can I switch days?
Yes, you can switch days, through Eventbrite. (While tickets are still available).
Can I upgrade my ticket to VIP?
Can you refund my ticket?
Eventbrite allows refunds up until 1 day before the event. Our restaurants cannot help. Please directly file a refund request through Eventbrite.
What do I need to bring for entry?
Please bring your confirmation email from Eventbrite and your photo ID.

You will have an e-ticket furnished by Eventbrite sent to your email.

If you have multiple tickets, screen shot them and save them on your phone for faster entry.
Can under-age attend the event?
Yes, they can, but of course, alcoholic beverages will be served only to 21 and over.
Are dogs/pets allowed at this event?
Pets are not permitted. Service and working animals are not considered pets and are exempt from this policy.
What was the Rooftop Party like previous years?
What time does the event start and also end?
VIP Admission – 5:00pm ~ 6:30pm
Regular Admission – 7:00pm ~ 9:30pm
What happens if it rains?
The show must go on! So it will be on rain or shine.
How many guests are you expecting for each evening?
We are expecting approximately 1000 guests for each night.
Can I reserve a table?
So sorry, we cannot reserve tables due to the informal nature of the event. Yatai style is walking around eating at the various food and drink stations while people come and go.
Is this a charitable event?
With our Rooftop Party co-sponsored with

Dining Out Magazine

, we share donations raised from this event to these 2 charities below this year:
Kumamoto Castle Earthquake Relief Kumamoto is our hometown in southern Japan. It is nestled in the mountains and forest and known for the pure waters and lush greenery. The nearby sea provides an abundance of seafood. This seafood is often served at our restaurants. We also have a famous castle called Kumamoto Castle, built in 1467. It is the only black castle and one of the top 3 most beautiful castles in Japan. We have a special connection with this castle. Our ancestors were Samurai and served under this very castle. This sense of protecting Kumamoto Castle is in our being. However, in April of 2016, we had an unprecedented earthquake which struck and devastated the Kumamoto area. Our hometown is still rebuilding and like previous years, a portion of the proceeds will be donated to the earthquake relief agencies in Japan, including the ongoing and painstaking restoration of Kumamoto Castle.

We Don't Waste
"We Don't Waste an innovative food recovery organization reducing food waste by recovering food from venues, events, caterers, restaurants and major food distributors, then deliver the food to community-based non-profit agencies serving vulnerable populations, increasing food security within those populations. We are the link between food sources and the underserved.
Who are the chefs?
What kind of food do you serve?
We are serving Japanese comfort food for the soul, including Ramen, Okonomiyaki, and BBQ/Yakiniku, hand rolls, etc. These are typically served as street food called Yatai, also found at festivals across Japan.
Chefs from Denver will be serving their own version of the street food.
Are these foods gluten-free or vegan?
Some of the dishes are vegetarian and gluten free. The menu will be announced very soon.  
Can I do take-out with this food?
So sorry, take-out is not available.
What kind of drinks do you serve?
Sake, Wine, Beer and Shochu Cocktails. Regular Ticket price includes 3 alcohol beverages of your choice. You'll receive 3 drink coupons when you check-in. There will be a booth available for purchasing extra beverage coupons. Soft drinks and water are complimentary.

No refunds possible on beverage coupons.
Where do I park my car?
Please park in the neighborhood street parking.

Limited Valet service available in front of the parking garage

.

 

However, we highly suggest you take cab, Public Transit/RTD, Uber or Lyft.

 
Where do I check in?
We will have a check-in booth at our garage/event building across the street from OTOTO restaurant.
What kind of music will you play?
We plan to have a live band playing Latin jazz.
Who is the organizer of this event? 
Are there any bathrooms at the venue?
There will be the porta-potties on the ground level of the parking garage where the entrance is.
Are the 3 restaurants open as usual while the event is on for 2 days? 
Yes, business is as usual at Sushi Den and Izakaya Den.
OTOTO is closed as usual on Tuesdays. However, on Wednesday, OTOTO is also closed as we will be using our OTOTO kitchen and staging the event from there.