Hello everyone,

Happy Spring to you!
I hope you are doing well!
In this newsletter, we have some interesting news to share with you.
First of all, last time when I wrote to you, I shared with you about our annual special dinner that was taking place in early May. In fact, we have just hosted 2 evenings of this wonderful dinner. For those of you who attended the dinner, we are so happy to have you join us! Thank you very much for attending the dinner! 2 Japanese chefs who flew in from Japan for this dinner also had a great time. 

Well, our next big event is the Roof Top Party in late summer and early fall, which will again be a fundraiser for the rebuilding efforts still underway after last year's earthquake in our hometown, Kumamoto. We plan to create street food type of booths on the top of the roof of the newly opened parking garage. For this event, we plan to bring in 20 chefs from Japan. We will definitely keep you updated. Last year's party was so much fun! Please see the video from last summer 

Until then, our plan is to introduce more new menus, new sake, wines and cocktail menus.

Sincerely,
Yasu and Toshi
---
Parking - now it is finally open!
The City of Denver has recently introduced new parking restrictions on the side streets around South Pearl Street. You can now park up to 2 hours for free on the side streets within 3 blocks from our 3 restaurants. However, after 2 hours, the City will start to write parking tickets. Now if it is outside of 3 blocks, it is still free. 

Please see what City of Denver sent us. In this map, our restaurants are marked with yellow. View map & letter.
We have spent quite some time working out all the details of offering a discounted rate for parking in our garage for our restaurants' guests. And it is finally available!
So, here are 2 solutions:
Valet Service - you can find the complimentary valet service in front of our restaurant. 
Self-Park/Discounted rate with validated ticket - $2 for up to 3 hours parking.  The rate for invalidated parking is $2.50 for up to one hour and $7.50 up to 3 hours.  Please ask your server for the validation of your parking ticket.
---
Mother's Day
In honor of Mother's Day, May 14, the Den Corner restaurants will increase Sunday hours. Celebrate Mom, with our signature dishes, wine and sake flights, and delectable dessert cocktails.   
Sushi Den
Dinner - 5~10:30 pm 
IzakayaDen 
* Lunch 11:30~2:30pm      
* Dinner 5~10pm
Ototo Den
* Lunch - 11:30~2:30pm 
* Dinner - 4:30~9:00pm
---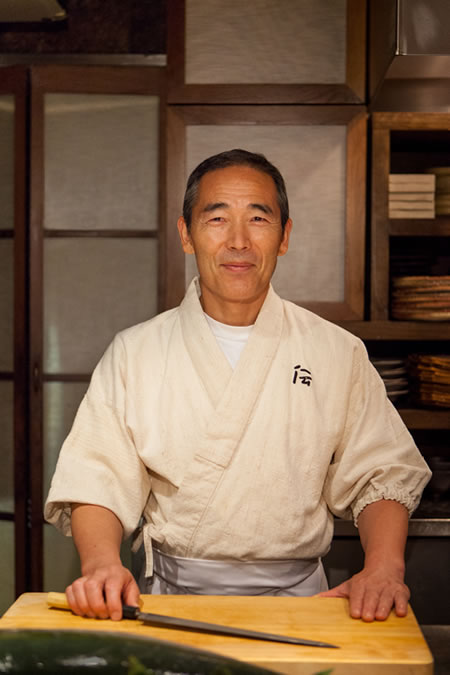 Opinionated About Dining
Our master chef, Toshi was recently recognized as one of the Top 100+ chefs in the United States by the online site called Opinionated About Dining.

We finally made it onto this chef driven site and we are now ranked at 184th in United Sates. There are only 2 chefs from Colorado recognized and the other chef is from Frasca in Boulder. Among sushi restaurants, we are now ranked among top 30 sushi restaurants.

This site is not Zagat, however among chefs, it is more credible site than any other sites.  You can see many nation's top chefs including many from NYC, LA and SF in this site. It's a great resource for those of you traveling.
Please join us in the Denchu room for this Omakase meal to experience the mastery of his skill: http://www.sushiden.net/omakase-chefs-choice-menu-private-dinner/