Wow, it is already March! Can you believe this?
Since l last sent our restaurants' newsletter, we have been cooking up many different exiting new things for this year.
In early May, we will be bringing a master chef and his team from Japan specialized in traditional Kaiseki Cuisine. Toshi and the chefs' team will be having an Exclusive Dinner Party. And then, sometime in August, we will be having another Summer Roof Top Party to raise funding for on-going relief efforts for the 2016 earthquake victims of Kumamoto, Japan. The epicenter was unfortunately our home town, so we are actively trying to help. More details will be coming soon.
In between, we will also be offering Sake Flight Series to introduce to our guests the national drink of Japan - sake.
Lastly, the long awaited parking lot is opening today for complimentary parking for the restaurants' guests. In fact, many guests have already been parking there for free.
In any case, we have so much to inform you today.
Please enjoy reading the newsletter.
Sincerely,
Yasu and Toshi
---
Chef's Table
Denchu OMAKASE- Private Room at Sushi Den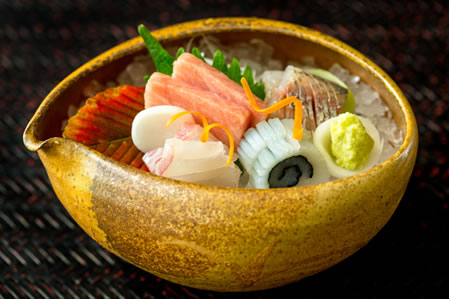 We have been promoting our small private room called "Chef's Table" in the back of the restaurant at Sushi Den. It is a cozy intimate room, run by our master chef, Toshi.
Toshi prepares the Chef's Choice Dinner menu within the private room at the private sushi counter. The 6 course delicious, seasonal Omakase Dinner is centered around Sushi and Sashimi.
Our youngest brother, Koichi, is at the fish market in southern Japan handpicking fish and Toshi and his team will use these freshest ingredients to come up with your meal. This private room is ideal for anyone who would like to experience the ultimate sushi and Japanese dinner for your very special occasion.
---
Spring Sake Flight Series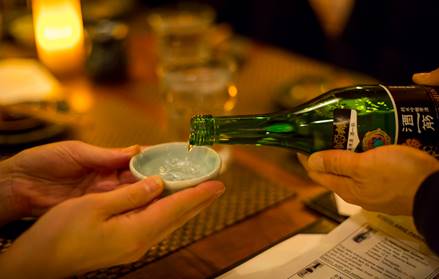 We currently offer 36 different types of premium sake. Since sake is the ideal drink for Japanese food, full of UMAMI, starting today, we are offering 3 premium sake for this Spring Sake Flight Series. We chose these as they are some of the "go-to sakes" for the sake lovers in Japan. These are sakes you will find on good sake lists when dining in Japan.
Please read further information...
---
Complimentary Parking
We have spent quite some time working out all the details of offering complimentary parking at our parking garage for our restaurants' guests. We'd been planning to announce the opening of the long awaited parking structure very soon.

And then, just about a week ago, the City of Denver sent us a letter announcing the introduction of new parking restrictions on the side streets around South Pearl Street. You can now park 2 hours for free on the side streets within 3 blocks from our 3 restaurants. However, after 2 hours, the City will start to write parking tickets. Now if it is outside of 3 blocks, it is still free. Please see what City of Denver sent us. In this map, our restaurants are marked with yellow. View map & letter.
So, when you dine with our restaurants, why not use our valet service or you can self-park Lunch or Dinner hours in our parking garage. During the Valet hours there will be a separate entrance for the Valet and those self-parking. The validation system will be introduced very soon and this is absolutely necessary for the complimentary parking for our guests.
If you have any further questions, please ask the City
directly, parkingoperations@denvergov.org.
---
Pop-up DenShow
By Japanese ceramic Artist, Kazu Oba
The good friend of us, Kazu is having his show. There is a small retail space under the structure of the restaurant parking lot. The showing is just weekend and it is until 18th of March. We love his ceramics!! www.kazuoba.com