Sushi Den F.A.Q.
Sushi Den
---
How do I get to Sushi Den?
SUSHI DEN
1487 South Pearl St, Denver, CO, 80210

SUSHI DEN is located on the corner of South Pearl St & East Florida Ave, next door to the IZAKAYA DEN and across the street from OTOTO. (Also known as DEN CORNER).
What about parking?
Read Parking Information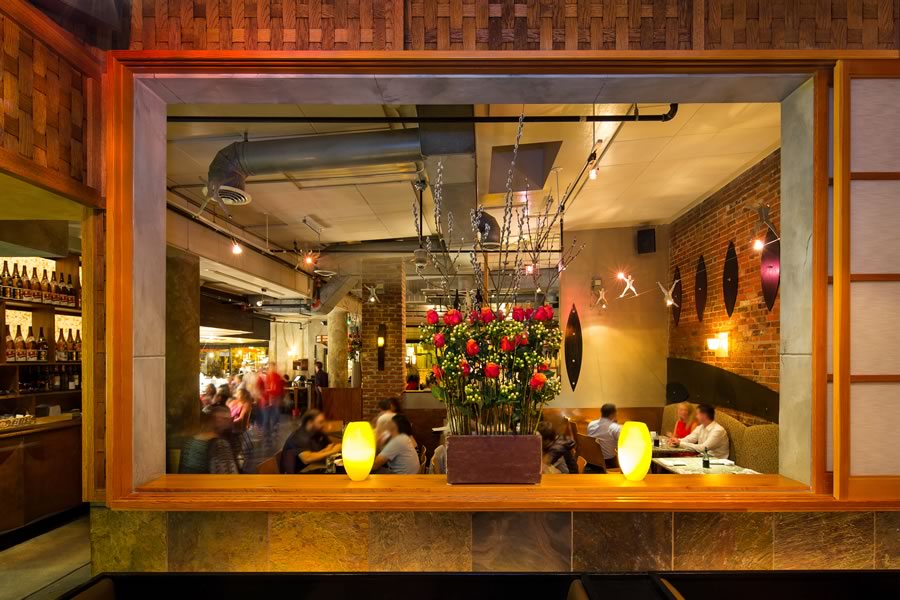 Our address is 1487 South Pearl St. Denver, CO 80210. (View map).
We are 10 minutes from downtown Denver, a few minutes away from I-25 & the Broadway Exit. Nestled between Washington Park and Denver University, we are conveniently located in central Denver. We also offer complimentary valet service
From the North:
Exit I-25 at Broadway (#207A) just after the Santa Fe Exit. Head South on Broadway to Louisiana Ave. Go left (East) 6 blocks to South Pearl St. Turn right (South) on S. Pearl for 2 blocks. We are at the corner of South Pearl Street and Florida, on the Northwest corner.
From the South:
Exit I-25 at Evans Ave (exit #203), left turn, West, on Evans. Travel through the DU area to Pearl Street (after University, before Broadway). Head North on S. Pearl for six blocks. We are at the corner of South Pearl Street and Florida, on the Northwest corner.
Do you take reservations?
Reservations via Open Table!
We accept reservations for up to 6 guests via the Sushi Den portal on Open Table. Since we are treating Sushi Den and Izakaya Den as "one House" for the time being, seating will be made according to availability restaurant-wide, seating at both Sushi Den and Izakaya Den. We have the same menu and the same chefs for both restaurants with our common kitchen.
Walk-ins are welcome! Even if reservations are filled, we keep many tables open for walk-ins.
Do you have Valet parking?
Valet Parking
The parking garage fee is a flat fee of $5, which the valet will collect upon your arrival.
Accepted forms of payment are Cash, All Credit Cards, Debit Cards, Venmo.
This does not include a gratuity for the valet.
In the event that you decide to leave your car in the garage overnight, there will be an additional fee of $12.
Is Sushi Den open on national holidays?
Sushi Den is closed on Mondays, as well as 3 National Holidays a year. For seasonal holiday hours, check our website home page.
Every Monday

July 4th – Gone Fishing! Closed all day

Thanksgiving Day – Gone Fishing! Closed all day

Christmas Day – Gone Fishing! Closed all day
Is there a dress code?
No dress code, you can dress casually or dress up.
How does Sushi Den get such fresh fish?
One of the most important ingredients of sushi making is getting the freshest fish available. In Colorado, as a land locked state, many sushi bars do not have easy access directly to the fish market. We are one of the very first sushi bars in the United States to purchase directly from the fish market in Japan. At Sushi Den, Koichi, our youngest brother, is stationed at one of the largest fish markets, Nagahama Fish Market, located in our home prefecture in the southern-most island, called Kyushu Island.
At 4:00 AM, he carefully hand selects the freshest fish just unloaded from the boat, then within a few hours, the fish speeds its way to Denver, arriving within 24 hours. Toshi also goes to the local fish market at 7:00 AM in Denver 6 days a week, where he painstakingly handpicks the freshest fish available just for that day. We also source many exotic fish from Alaska, Seattle, Boston, Hawaii, Florida as well as from Philippines, Canada, Mexico, and Spain.
Please enjoy our Freshest Catch of the Day directly from the renowned Nagahama Fish Market.
Check back daily for menu updates.
What other menus do you offer at Sushi Den? 
Not only do we offer many sushi items that are cooked, we also offer an extensive menu of fusion, vegetarian, gluten free and traditional dishes from our kitchen. For dessert, we bake our light and delicious cakes, pies and brûlée daily, using only the finest ingredients.
Does Sushi Den offer Take Out Service?
Yes! We have an extensive Take Out menu that also includes items from our siblings, Izakaya Den and OTOTO. Please see our Take Out Menu to order.
Does Sushi Den cater?
Temporarily Postponed during the Event restrictions currently set by the City & State mandates.
We can accommodate any requests you have based on your budget. If you wish, we can send you our chef to prepare sushi at your party. Please contact our managers at Sushi Den, 303-777-0826 to discuss the details of your special occasion.
CAN I BRING MY OWN DESSERT/CAKE?  
We love helping to celebrate your special events with you, including bringing your own cake or dessert which we are happy to cut for you.
However, due to health department requirements, we can only accept into the restaurant those desserts/cakes from a recognizable, commercial bakery in a labeled bakery box which clearly lists all ingredients and where the cake was purchased.
Please know we charge a dessert/cake service fee of $1.50 per person in your party, which is subject to state and city sales tax.
Have Our Pastry Chefs Prepare Special Dessert
With advance notice, we are happy to have our in-house pastry chefs prepare a special dessert/cake for your party or event. Please contact our managers for more information and pricing.
WHAT ARE THE DIFFERENCES BETWEEN THE 3 RESTAURANTS
Sushi Den has been on the vanguard and regarded as one of the premiere sushi and Japanese restaurants in the United States since opening Christmas 1984. Independently owned and operated, Sushi Den continually raises the bar and sets the standard for high quality cuisine.  www.sushiden.net / 303-777-0826
Izakaya Den is Sushi Den's sleek little sister, right next door on Old South Pearl Street. Izakaya Den is the winner of the American Architecture Award for its refined design with an homage to its Japanese roots. Serving global cuisine and the same freshly sourced sushi as her big sister, Izakaya Den provides a memorable dining experience. www.izakayaden.net / 303-777-0691
OTOTO is the latest addition to the Sushi Den and Izakaya Den, a more casual ambience, raw bar and Robata grilled skewers, as well as a premium sake list. While Izakaya is called Sushi Den's sister restaurant, OTOTO in Japanese means "younger brother". Together they form a trifecta to honor Japanese cuisine on the "Den Corner". www.ototoden.com / 303-733-2503
WHY DO YOU HAVE THREE RESTAURANTS SO CLOSE TO EACH OTHER?
Synergies between the three operations, shared resources of staff, storage, and management.
As an old Japanese story goes, a famous warlord in Japan 400 years ago, who was the father of three sons, gave each son one arrow and instructed them to break it.
Each son easily accomplished this task. He then gave them 3 arrows at the same time and told them to break the three together. They could not break the arrows that were grouped together. The father wisely told them, "Work together and help each other. You are much stronger together than separated."