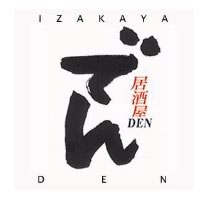 Evening in Fukuoka at Izakaya Den – SOLD OUT!
Immersion dinner celebrating the flavors and traditions of
sushi, kaiseki and izakaya


Toshi Kizaki and Izakaya Den host it's annual "Sushi Kaiseki" dining experience with special guest chef Mr. Jun-ichi Akashi, owner of Noishiki in Fukuoka, Japan, the Kizaki's home region, and home to the Japanese Fish and Vegetable market, Nagahama, where they source their fish and vegetables. The intimate dinner will celebrate the flavors of Fukuoka held on Monday, May 8 and Tuesday, May 9 at 6:30 pm seating 60 guests.
Mr. Akashi is known for his specialized training and masterful execution in Sushi Kaiseki, a sophisticated, multi-course cooking style, which originated in the 16th Century in the ancient capital of Kyoto.  An ultimate expression of Japanese cuisine, the progressive, seven-course dinner created by Toshi Kizaki and Jun-ichi Akashi will showcase fresh seafood selections and spring vegetables from the Nagahama Fish and Vegetable Market in southern Japan.
Menu example includes: – menus subject to change upon availability of the ingredients
1st – Suri-nagashi – Spring asparagus soup
2nd – Zensai – Selection of of fresh vegetables, meat and seafood
3rd – Otsukuri – Sashimi sourced from Nagahama
4th – Yakimono – Alaskan Black Cod
5th – Agemono – Spring vegetables and seafood tempura sourced from the Japanese vegetable market
6th – Sushi – 5 pieces of Aburi style and catch of the day from Nagahama
7th – Dessert – Traditional Japanese sweets

In keeping with the traditional meaning of the Kaiseki experience, being "at one with nature", each course will be artfully displayed to reflect the spring season. A special drink menu will be available, including Japanese sake.
Held in the "Ten Qoo" sky lounge on Izakaya Den's second floor, guests will feel like they have been transported to an authentic Japanese meditation garden complete with their personal experts in Japanese cuisine and sake.
Price per person is $120 + tax + gratuity with only 60 seats available per night. Beverages not included. To make a reservation, TICKETS ARE SOLD OUT. For further questions, email info@izakayaden.net.
Purchase tickets:
MON, MAY 8th TICKETS – SOLD OUT!
TUES, MAY 9th TICKETS – SOLD OUT!