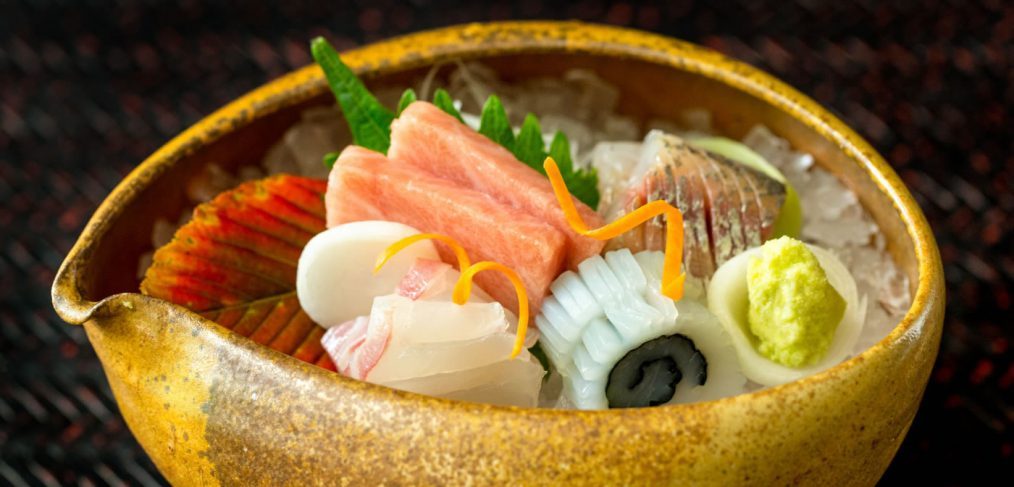 ---
Indoor Dining Temporarily Suspended
due to City Safety Mandates starting Nov 20
Make your dining experience extra special with Chef's Table at Home!
---
NEW! Chef's Table Improvised – AT HOME!
Please leave your menu in the capable hands of the Chef.
Chef's Table is meant for adult "Foodies" who are open to all types of dishes and trying new things.
Guests who are "into" sushi tend to appreciate this choice, as the Chef selects the Best of the Daily Catch for these private dinners. Your private Chef will be dedicated to making your meal. Sake Pairing Curated by your chef especially for your unique meal is also possible.
MENU: Enjoy courses including; premier sushi and sashimi from a wide variety of freshly caught raw fish handpicked by our youngest brother from the Nagahama Fish market in southern Japan, and from other markets worldwide. The menu may also include some cooked courses. Please note we are not in a position to accommodate gluten free focused menus or vegetarian focused menus.
PRICING: Due to fluctuations in the prices at the fish market, we anticipate the price to be approximately $125+ per person without drinks, gratuity and tax. There may be fluctuations in price based on your preference and quantity of fish.
Pickup Times Wednesday through Saturday: 1st Pickup – 6:00 pm     or      2nd Pickup – 7:00 pm
Pickup Location: Due to the current circumstances, the pickup location of the Chef's Table Take Out is now at Sushi Den Patio on the south side of Sushi Den (Florida Street). Please see the pickup procedure for Take Out.
Guest Maximum: 6 guests maximum for each Pickup time, in parties of 2-6 guests, with 6 being the maximum for one pickup time.

24 Hour Lead Time: Order needs to placed a minimum of 24 hours in advance.
Cancellation Policy:
Please read our Cancellation policy.
---
First come, first served basis.
For any questions, please send your inquiry to yasu@sushiden.net 
Closed Thanksgiving Day and Christmas Day.